The Ambassador of India to Iran at the ceremony of the 76th anniversary of the independence of this country said:a few weeks back, India became the most populous country on earth. Less than a year back, India also became the world's fifth largest economy. Within this decade, it will rise to the third place in economic rankings.
he emphasized: India's status as the world's fastest growing major economy is being powered by an incredibly young population. A quarter of our population is below 15 years of age. Half of our people – which means 700 million individuals – are below 25. Clearly, India will continue to grow – both as a market, as well as a source of manpower – for a very long time.
The Indian ambassador said: As most of you would know, India's youth have a special talent for Information Technology. And our young population is driving a digital revolution in India today. Earlier, the level of a country's economic development used to be measured by its consumption of energy. In today's digital age, data is the new oil. And India's digitally connected youngsters have the world's highest consumption of mobile data today.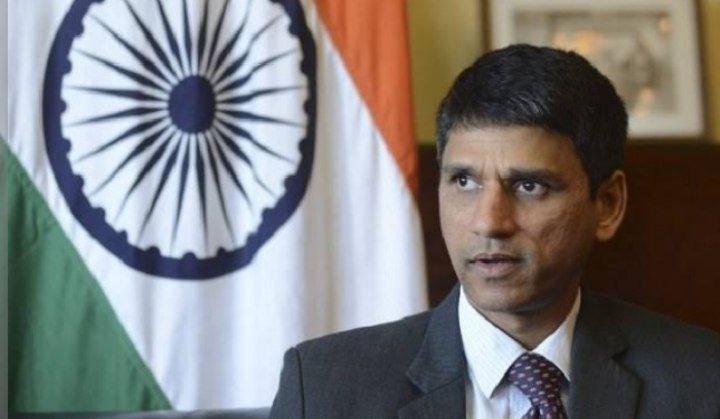 He said: India's digital revolution is based on a uniquely Indian model – of Digital Public Infrastructure. Under this model, the Government creates open-ended digital architecture as a free public good, and our private sector plugs into this architecture to offer innovative new solutions. Under this model, 1.3 billion Indians have a biometric-based digital identity today. This model allowed our electronic payments system UPI to cross 1 trillion dollars of transactions last year. In fact, in 2022, India accounted for 46 percent of all digital payments in the world, more than the next 4 countries combined!
The Indian ambassador said :As India continues its rapid economic and technological rise, this will naturally have an impact on the world and the region, especially on countries with which we share ties of friendship, trust, and geographical proximity. The future of Iran-India relations should be seen in this context.
He added: Iran and India have long been friends. Our political leaders, our people, look upon each other with amity, trust, and mutual respect. There are absolutely no points of bilateral friction between us. This is rare to see between large and powerful countries that share a region and a history.
Rudra Gaurav Shrest Stated :Despite the constraints of COVID, we maintained a healthy frequency of high-level political contacts in recent years. Our Foreign Minister participated in President Raisi's oath-taking ceremony in 2021. Foreign Minister Amir Abdollahian visited India last year. Prime Minister Modi met President Raisi on the sidelines of the SCO Summit in Samarkand. Iran's Defence Minister met ours in April this year. Our National Security Advisor was in Iran just about three months back.
The Indian ambassador Stated: All these interactions have served to reiterate the warmth of our relations, and the shared desire to broaden and deepen our cooperation. They have allowed us to exchange perspectives on important regional issues where both our countries have shared concerns – such as the situation in Afghanistan, or security and stability in the Persian Gulf.
And the coming months will see a continuation of these exchanges. We are preparing for our Joint Commission meeting at Foreign Ministers level. In just a week from now, Prime Minister Modi is looking forward to meet with President Raisi on the sidelines of the BRICS Summit in South Africa. He hopes to also host him in India very soon. I know that these forthcoming meetings will be as cordial, and as productive, as those in the past.
He said: Both our countries are conscious of the fact that our economic exchanges have not kept pace with the warmth and depth of our political friendship. The reasons for this are also well-known. We continue to make efforts to maintain our economic linkages, and to diversify them further. We also hope for an improvement in the geo-political context, which imposes extraneous pressures on our economic cooperation.
 He added: One very important aspect of our economic engagement is regional connectivity. India wishes to benefit from the strategically located and friendly territory of Iran for reaching the Eurasian and Central Asian markets. We are partners in the International North South Transport Corridor, and in the Chabahar port. For India, these connectivity projects hold immense promise. In future, they can become the main pillars on which India-Iran friendship would rest.
Reported by:fargol ghaffari